Third Quarter Real Estate Insights at The Cliffs Resort, Possum Kingdom Lake
Matthew Renfro, REALTOR
Delve into the 3rd Quarter market report from the heart of Possum Kingdom, showcasing the real estate dynamics at The Cliffs Resort. Your feedback has been invaluable in enhancing these quarterly insights, and we continue to invite suggestions for further enriching this data narrative. Now, let's navigate through the real estate tapestry of Cliffs Possum Kingdom in this quarter.
Housing Market
The housing narrative at Possum Kingdom Lake unfolded with a quieter tone in Q3 2023, as only four properties changed hands, contrasting the 11 sales in the preceding quarter and eight in Q3 2022. The Cliffs Possum Kingdom revealed a price correction in this quarter, averaging at $764,375 per property, yet still showcasing a year-on-year appreciation from the $587,875 average of Q3 2022.
The homes traded in Q3 2023, averaging 2,406.5 sq. ft., might be cozier compared to Q2 2023, yet they surpass the space offered in Q3 2022. The price per square foot narrative further accentuates the market dynamics, registering at $297.48/sq. ft. in Q3 2023, slightly receding from Q2 but still holding a premium over Q3 2022's $270.18/sq. Ft.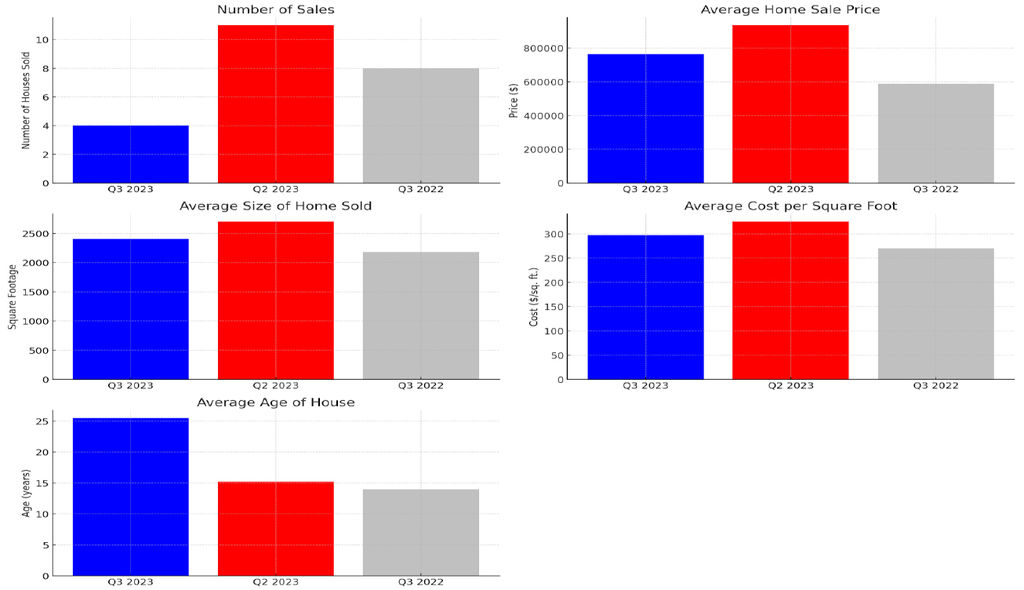 An intriguing snippet from this quarter's housing market at Possum Kingdom is the vintage charm. Homes sold were, on average, a quarter-century old, hinting at a market sentiment favoring well-maintained or vintage properties.
Lot Sales
In the vibrant landscape of Possum Kingdom Lake, the third quarter of 2023 saw a buoyant sale of 13 lots at The Cliffs Resort, each spanning an average of 0.305 acres and pegged at an average price of $33,538. This marks a notable ascent from Q2 2023, where only three lots found new owners, albeit at a lesser price of $27,500 each despite their larger size of 0.429 acres. Casting a glance back at Q3 2022, the Cliffs Possum Kingdom was bustling with 18 lot sales, although smaller in size averaging 0.247 acres and priced attractively at $18,736.
The accompanying bar-chart elucidates the quarterly lot sales trajectory, comparing the figures from 3Q 2023, 2Q 2023, and 3Q 2022: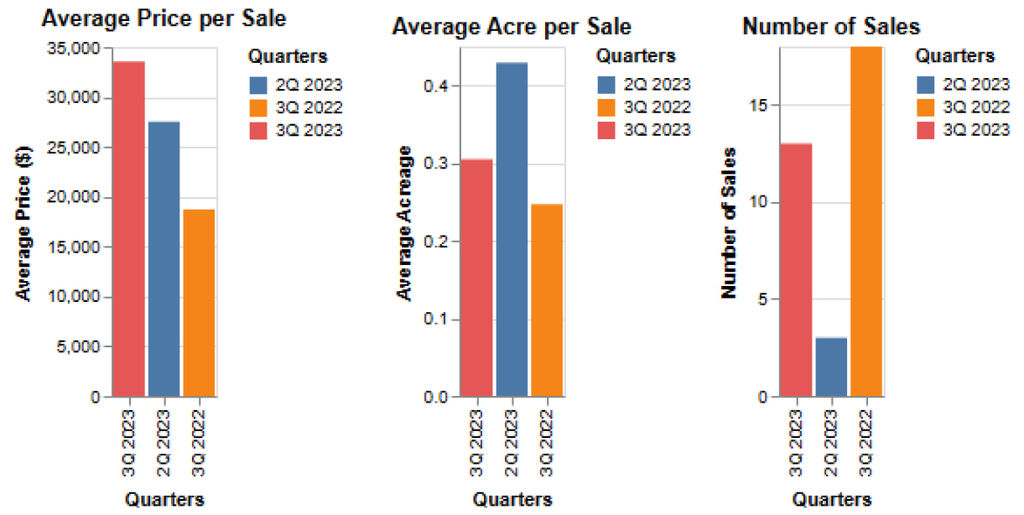 It's noteworthy that several lots at The Cliffs Resort are listed below this quarter's trend, awaiting buyers. The prime allure seems to be the water view, golf course proximity, or the cliffline ambiance, with six of the sold lots this quarter nestling by the golf course and four boasting enticing views.
Currently on the Market
As we sail into the next quarter, The Cliffs Resort has 11 houses awaiting owners, averaging 2,786.18 sq. ft. in size and $1,137,909.09 in price. The price spectrum for these homes ranges from a cozy $475,000 to a lavish $4,500,000.
On the verdant expanses of Cliffs Possum Kingdom, 105 lots are listed, with an average size of 0.281 acres and an average tag of $56,414.27, offering a wide price range from $7,000 to $650,000 for a piece of Possum Kingdom Lake's serene sanctuary.
The real estate narrative at Possum Kingdom Lake, particularly at The Cliffs Resort, continues to be an engaging tapestry of evolving market dynamics. Your insights are the catalyst for a richer data narrative, and we look forward to your feedback as we chart the real estate journey through Cliffs Possum Kingdom.