Ski bums travel from around Texas to ski Possum Kingdom Lake for over 50 years!  The Lake offers world class water skiing throughout the year. Additionally, other water sports include wakeboarding, tubing and the newest rage, wake surfing!  Because the lake has over 20,000 acres of water and 317 miles of coastline, Possum Kingdom Lake is a water skiers paradise.
Two must-ski spots include an inlet near the central Elm Creek Cove, formerly known as Lake Shore Marina, located at the end of FM 1148. The other can be found along the 90-foot cliffs banking the southern waters of markers 25-35.
From young children to expert athletes, water skiing is one of the epicenters of activity at Possum Kingdom Lake, even the grandparents are still doing it! Come find out why water skiing is just one of the things to do at Possum Kingdom Lake.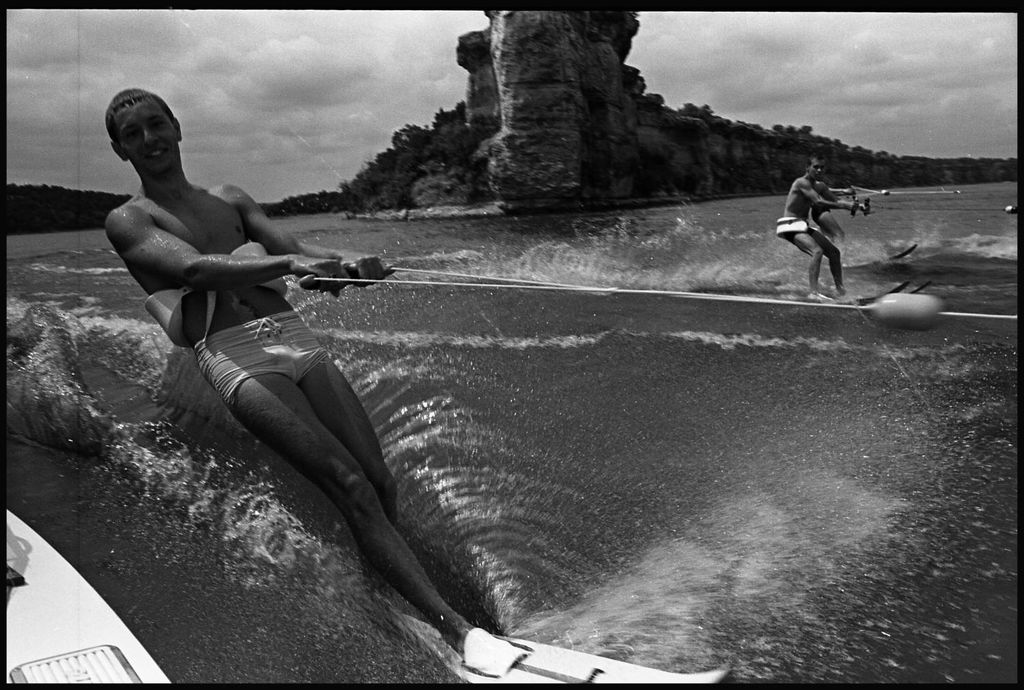 Getting your boat in the water is easy. Click here for a list of BRA managed access points to Possum Kingdom Lake BRA Public Access Ramps.  In addition Sportsmans World at Possum Kingdom Lake provides access through Bluff Creek Marina and The Cliffs Resort Possum Kingdom provides access through the Cliffs Marina.
The skier in color photo is our Sales Director Keith Hanssen. Black and White photos taken date unknown by Cochran, Jimmy W.